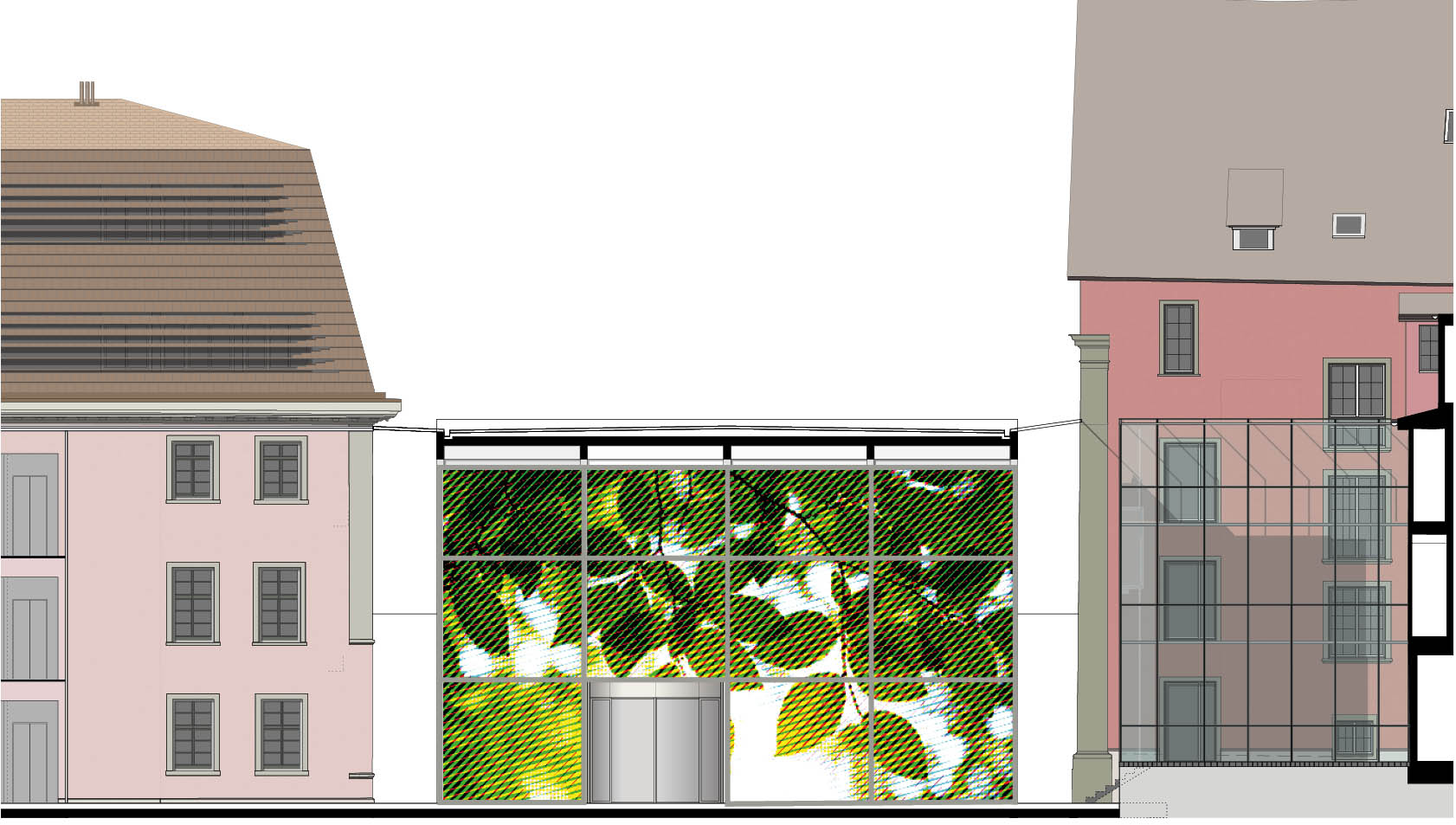 Ideenwettbewerb für die Gestaltung der Fassade Neubau Stadthausgeviert der Stadt Schaffhausen_April 2021
Steht man vor dem Gebäude meint man, in einen Park oder Garten zu blicken. Sonnendurchflutete Baumgruppen zeichnen sich auf der Wandfläche ab. Schemenhaft, wie der Schattenwurf einer imaginären Landschaft. Ein Sehnsuchtsort. Das Motiv kommt aus der unmittelbaren Umgebung Schaffhausens. Ein Stück Landschaft wird in die Mitte des urbanen Stadtraums geholt. 
Im Innenraum richtet sich der Blick in ein flirrendes Blätterdach im Gegenlicht. Das Motiv ist stark abstahiert, die Farbgebung reduziert. Steht man im Erdgeschoss direkt vor der Wand, taucht man in natürliche, frisch anmutende Farbwelten ein. Die Wahl der Motive verweist auf den Klostergarten – einen Ort der "inneren Mitte", der Kontemplation. Somit wird eine Verbindung zwischen der Historie des Ortes und durch Abstraktion und  Technologie – mit der Gegenwart hergestellt. Eine Verbindung zwischen "inneren und äußeren" Gärten. Zwischen Sehnsucht und dem flirrenden Leben an sich.
competition for the city of Schaffhausen_april 2021
When you stand in front of the building you think you are looking into a park or garden. Groups of trees bathed in the sun stand out on the wall surface. Dimly, like the shadow cast by an imaginary landscape. A place of longing. The motif comes from the immediate vicinity of Schaffhausen. A piece of landscape is brought into the middle of the urban space.
In the interior, the view is directed towards a shimmering canopy of leaves in the backlight. The motif is strongly abstracted, the coloring is reduced. If you stand directly in front of the wall on the ground floor, you are immersed in natural, fresh-looking color schemes. The choice of motifs refers to the monastery garden – a place of the "inner center", of contemplation. This creates a connection between the history of the place and, with abstraction and execution of the motifs in modern technology, with the present. A connection between "inner and outer" gardens. Between longing and the shimmering life itself.