auxetische Struktur und Wandbild für das Umweltbundesamt Berlin-Charlottenburg, Standort Bismarckplatz, Ideenwettbewerb 2021, Wettbewerb 2.Phase 2022, Entwurf gemeinsam mit Anne Sevenich Dresden
Die Arbeit entspringt dem Gedanken, dass ein kleiner Anstoß genügen kann, um große Veränderungen auszulösen. Impulse setzen, Richtungen ändern, Wege bereiten, um damit einen absichtsvollen Wandel anzustoßen. 
Diese Idee wurde in eine Struktur übertragen, die sich in ihrem formalen Ansatz auf die chemische Cellulose-Strukturformel bezieht. Cellulose als ein Biomaterial der Zukunft – als eine Möglichkeit zum Ausgleich von extraktivem und regenerativem Konsum. 
Die zweiteilige Arbeit setzt sich zusammen aus:  Einer dynamischen auxetischen Struktur, die sich in zwei Ebenen überlagert. Je ein Element erhält einen Impuls, setzt sich in Bewegung und nimmt alle andere Teile mit. Die Geschwindigkeiten der Ebenen differieren, so dass sie sich verschieden "auffalten". Und einem Wandbild im Treppenhaus – die chemische Struktur nimmt an Dynamik zu, wird raumgreifend, durchdringt das Gebäude, vervielfacht sich, wird leicht und luftig.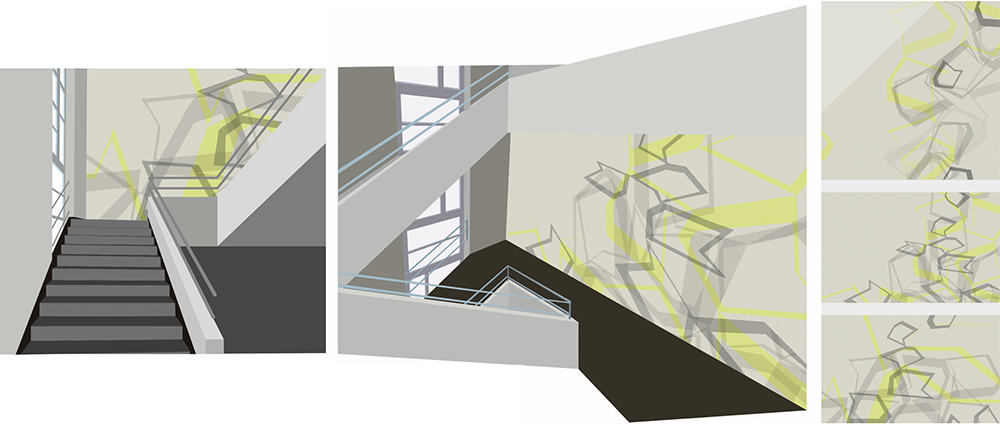 The work stems from the idea that a small nudge can be enough to trigger big changes. Setting impulses, changing directions, preparing ways to initiate intentional change.
This idea has been translated into a structure which in its formal approach is related to the cellulose chemical structural formula. Cellulose as a biomaterial of the future – as a way to balance extractive and regenerative consumption.
The two-part work consists of: A dynamic auxetic structure that is superimposed on two levels. Each element receives an impulse, starts moving and takes all the other parts with it. The speeds of the levels differ, so that they "unfold" differently. Mural in the stairwell – the chemical structure gains momentum, becomes expansive, permeates the building, multiplies, becomes light and airy.