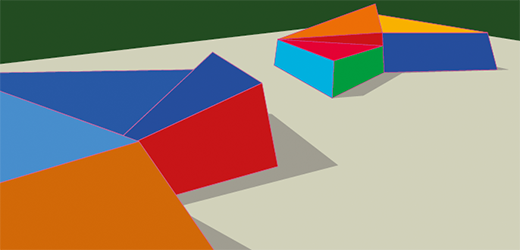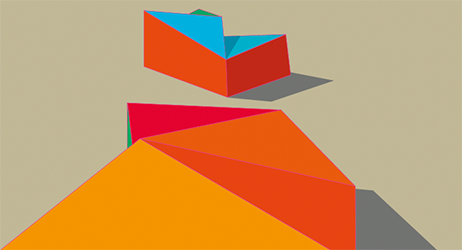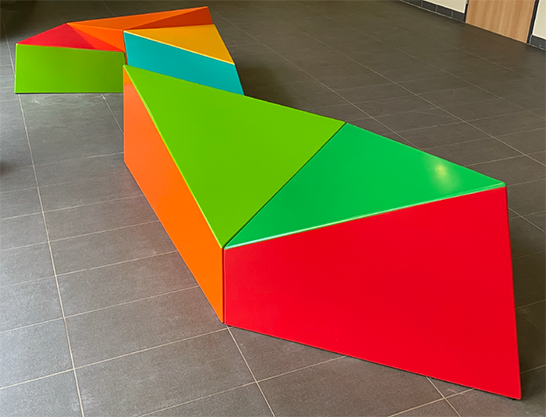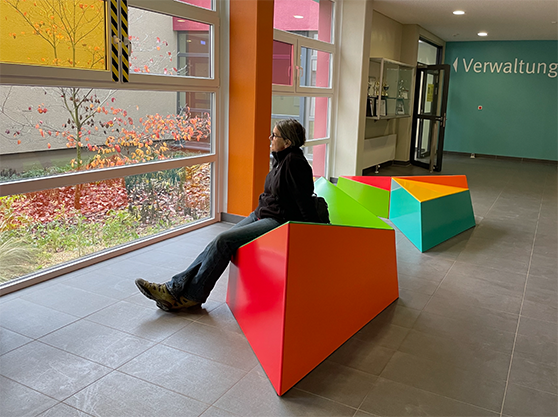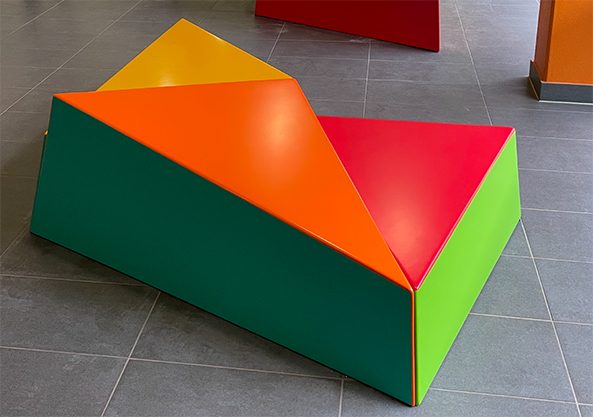 miteinander
Wandbild und gefaltete Objekte für die integrierte Gesamtschule "Nelly Sachs" Worms
eingeladener Wettbewerb 2021, 1.Platz, Ausführung bis August 2023
Die Persönlichkeitsentwicklung – als Metamorphose über die "Verpuppung" bis zur "Entfaltung" – wird in reduzierter spielerischer Form erzählt. Das Dreieck als eine geometrische Grundform bringt bereits eine gewisse Dynamik mit ins Spiel. Diese wird durch Transformation, das "Auffalten" in den Raum und die aktivierende Farbgebung noch gesteigert.
Metamorphose TANGRAM + ORIGAMI: In Anlehnung an didaktische Legespiele in Form gleichseitiger Dreiecke wurden einzelne Puzzleteile transformiert. Sie gewinnen an Dynamik und bekommen dadurch eine sehr individuelle Ausprägung. Zwischentöne mischen sich ein – die Farbigkeit wird differenzierter. Die Elemente gewinnen an Plastizität.
Personality development – as a metamorphosis via the "pupation" to "development" – is told in a reduced playful form. The triangle as a basic geometric shape already brings a certain Dynamics come into play. This becomes through transformation, the "unfolding" in increases the space and the activating color scheme.
metamorphosis TANGRAM + ORIGAMI: Based on didactic puzzles in the form of equilateral triangles, individual pieces were transformed. They gain momentum and thus acquire a very individual character. Intermediate tones mix in – the colors become more differentiated. The elements gain in plasticity.